Welcome to the most romantic hotel in Merida
This is a surprising place where your stay is not a simple step by the city but a true full experience of careful details in your room, delicate and delicious flavors; a so customized service that it fulfills the majority of your desires. As much when arriving as departing, you´ll feel that you are part of the history, a so intense past that marked treads in all Mexico and still in our days continues giving of which to speak.
The architecture of the place will bring you to XVII Century and will submerge you in moments of relaxing sensations where gardens will make you breathe tranquility and peace. And when you wish to leave this oasis to have contact with the world, to a single step you will have it at your feet.
Our history
---
La Mision de Fray Diego is an old house of XVII Century, recovered and turned into a charming and exquisite hotel boutique. 400 years ago this house was part of the Temple of Nuns or Our Lady of the Consolation, which is contiguous at the moment in the convent end.
The reason of its built was because the son of the Governor, Alvaro de Vozmediano died in a shipwreck on way to Spain, and his fiancée, Carmita de Ordoñez, of so deep pain decided to consecrate her life to God in a monastery, but there wasn´t in Merida.
Then, his father promoted the construction of the building.The urban nuns besides their own workings of their cult, formed an establishment of education for children and a house of charity for destitute old ladies.
---

Standard Room 2 double beds
Standard Room 1 Queen Bed
Special Room 2 Dbl beds
Special Room Queen bed
Junior Suite King bed
Master Suite King bed
Get to know all the advantages and benefits of our Fray Diego guarantee
Luxurious suites with very accessible prices that make the hotel La Misión of Fray Diego, the ideal place for staying.
The international menu with specialties in Spanish and Regional food will delight you with a very special flavor in every dish
Located just a block and a half from the Merida´s main square and many other touristic alternatives in the city downtown.
Exclusive for adults and teens over 12 years to preserve calm and tranquility at the hotel in order to offer you a restful destiny for your vacations in Merida.
Also, the Fray Diego guarantee offers you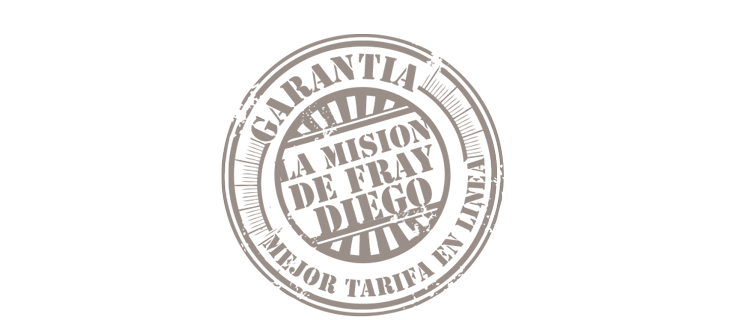 Best rate of the hotel in any category Overnight at hotel insured. Exclusive discount on all food Discount on major tours
If we do not meet with something we will refund you the first night.