RESTAURANT BAR THE CONVENT
With its international, regional, and Spanish menu, the guests will be delighted with the special care taken in the flavors of each dish and beverage.

There is a total capacity of 60 people; and in the evenings, the effect of the small lanterns which light the space make it romantic and charming.

Our bar offers a selection of domestic and imported liquors, with a capacity of 30 guests in our beautiful garden.

Merida Yucatan restaurant with an excelent flavor in every dish.
Al mirar la gastronomía yucateca, encontramos que tiene sus raíces en España, y debido a ello la cocina es muy similar a la de algunas regiones españolas. Sin embargo, al aplicar el espíritu maya en cada una, con sus ingredientes, gustos y tendencias, surge esta cultura gastronómica como producto de nuestro mestizaje.

Esta fusión gastronómica se dio principalmente en los conventos, como "La Misión de Fray Diego", de la Nueva España.

Los árabes llevan en el siglo X el azafrán y el arroz a España. Cinco siglos después, nosotros en América los incorporamos a nuestro estilo de cocinar. La paella es el más claro ejemplo de esta amalgama cultural que es el mestizaje, teniendo como resultado en los platillos una combinación de ingredientes y tradiciones de España, América y Oriente.

Ahora, la Nueva España es la "Otra España", y a usted le toca ser juez y formar parte al visitarnos y descubrir la magia de colores, olores y sabores que se conjugan al comer en nuestra tierra.

Ésta es la "Otra España", en el corazón de Mérida, donde esperamos que disfrute sus alimentos en el marco esplendoroso de "El Convento", restaurante del Hotel La Misión de Fray Diego.
PERMANENT FESTIVAL
OF THE MOTULEÑOS EGGS
Motulian eggs made the town of Motul famous. And is that to prepare succulent motuleños eggs cooking and seasoning should be in place.
It is no longer necessary for you to go to Motul for this dish. Here at "El Convento" we prepare them de-li-cio-samente. And get ready, because WE HAVE INNOVATED this dish with unexpected flavors, exclusive to "El Convento" restaurant-bar.
You can start with some classic Motuleño eggs, so you can see that they are the best of all Merida.
Then you can order some Fray Luis style eggs or Fray Jorge style. We recommend the Fray José if you are looking for a very original flavor, and if your palate is very demanding and sophisticated, without a doubt the Fray Enrique will conquer you.
Enjoy them, check and give us your opinion! We guarantee a festival full of flavor.

We are located at Calle 61 no 524 entre 64 y 66, Centro de Mérida, Yucatán.
Behind Monjas churh. Just one block and a half from Plaza Grande.
24 hrs free parking lot and valet parking.
Schedule: Every day from 7 to 11 am and from 6 to 10 pm.
Reservationss: (999) 924-1111.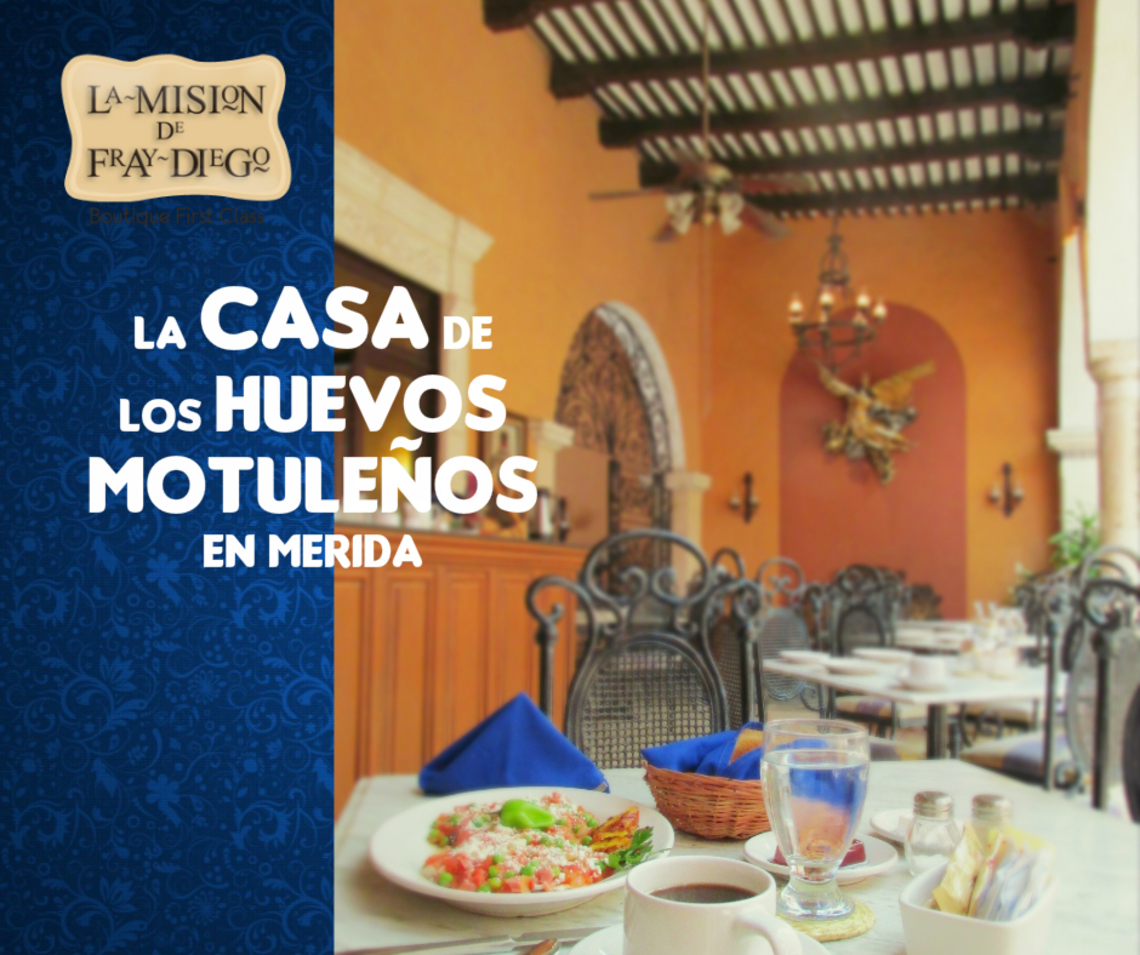 MENU
---
BREAKFAST
Juices, fruits, eggs, Mexican goodies, cereal, hot cakes beverages and the speciality of the house:
Spanish Tortilla $107

Cheese and potato Nuggets $94

Sausage with cheese Sevillana style $110

Fried sausage with white beans $110

Goat cheese with olive oil $118

Highlander ham $183

Guacamole (avocado salad) $88

Queso de Cabra al Olivo
Jamón Serrano
Guacamole
Cesar $ 95
Fray Diego Green $ 95
Lima $ 80
Garlic soup Madrileña style $ 80
Chicken soup with saffron $ 80
Vegetables $80
PASTAS
Monasterio four cheeses spaguetti

Butter Spaguetti

Valenciana $234 & $190

Marinera $205 & 175
(Almejas, Mejillones, Camarones, Calamar)
Shirmp Vizcaina style $242

Shrimp with garlic sauce $242
Red snapper fish filet with chili sauce $242
Red snapper filet with butter $242
Red snapper filet vizcaina style $242
Red snapper filet in Coriander sauce $242
CHICKEN
Breast with chili sauce $154

Breast Vizcaina style $154
Grilled $154
MEATS
Heart steak filet with potatoes spanish style $248

Estregon steak filet $248
Olé heart steak filet with highlander ham $248
Sopa de Lima
Longaniza Asada de Valladolid
Papadzules
Panuchos
Queso Relleno
Poc-Chuc
Combinado Yucateco "El Convento"
(Longaniza Asada, Poc Chuc, y Pollo Pibil)
We also have sandwiches, burguers, desserts, drinks, beers, beverages and Wine & Liquor menu.
E-mail:
reslamisiondefraydiego.com
PHONES
52 (999) 924 1111
52 (999) 923 6264

Toll Free USA & CAN:
1 866 639 2933